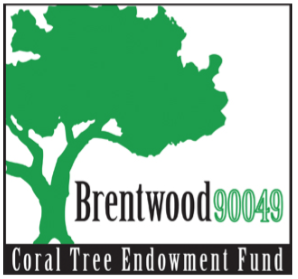 In 1976, the Coral Trees on San Vicente's median were declared "Cultural Heritage Monument #148" because this area ranks with the most beautiful in our city.
Let's continue our responsibility as a community to ensure the vitality of the Coral Trees on our Boulevard for our children, and for theirs as well.
The City of LA provides ZERO funding for the approximate yearly cost of $30,000.
Please consider a donation today!
*Benefactor – $1000 *Coral – $500 *Sponsor – $250 * TLC – $100
Click Here To Donate By Credit Card
or
Write Check/Mail To:
Brentwood Coral Tree Endowment Fund
149 S. Barrington Ave. #194, Los Angeles, CA 90049
Your donation is tax deductible as allowed by law.
*BCTEF is a project of Brentwood.90049, a tax exempt 501©3
Tax ID #95-4659261
Questions? info@brentwoodcommunitycouncil.org